When working to prevent birdseed from being stolen by squirrels, utilizing a special feeder can be helpful. Bird feeders designed to keep squirrels out, such as squirrel-proof feeders, are a great option. There are plenty of designs to choose from so please take a look at the top 10 best squirrel proof bird feeders I have reviewed above.
Quick link to Overall Best, Best Pole Mounted, Best Spinning, Best Durable, Best Suet Cage, Best Large, Best For Cardinals, Best Budget, Best Seed Funnel, and Best Suet
Squirrel Buster Standard
Overall Best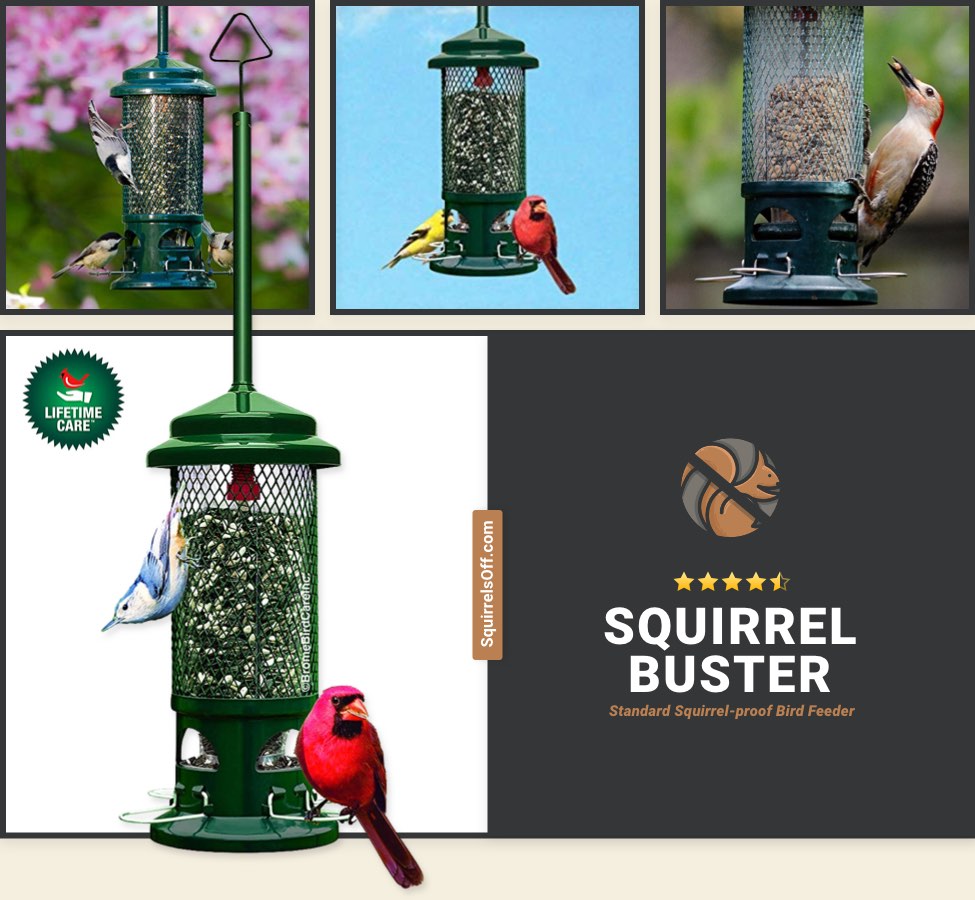 I like so many things about this particular bird feeder. This bird feeder is Amazon's Choice for Best Squirrel Proof Bird Feeder, and sports well over 3000 reviews. It's no wonder it's so popular, as even I like a number of things about this particular feeder. Any exposed parts are also chew-proof to squirrels, to prevent squirrels from chewing through the seed port closure. Another aspect to this feeder is that it features a spring-loaded mechanism to prevent intruders. Once a squirrel is detected, its weight will cause the seed ports to automatically shut – denying access to the seeds inside.
✅ Lifetime care
✅ Seed ventilation system
✅ Weight-adjustable
✅ Ultraviolet-resistant
✅ Chew-proof
✅ Adjustable spring weight
Buy on Amazon
Buy on Walmart
Conclusion: I find this product to be one of the best squirrel proof bird feeders available. It features ventilation in order to maintain access to fresh seed at all times.
Squirrel-Be-Gone II
Best Pole Mounted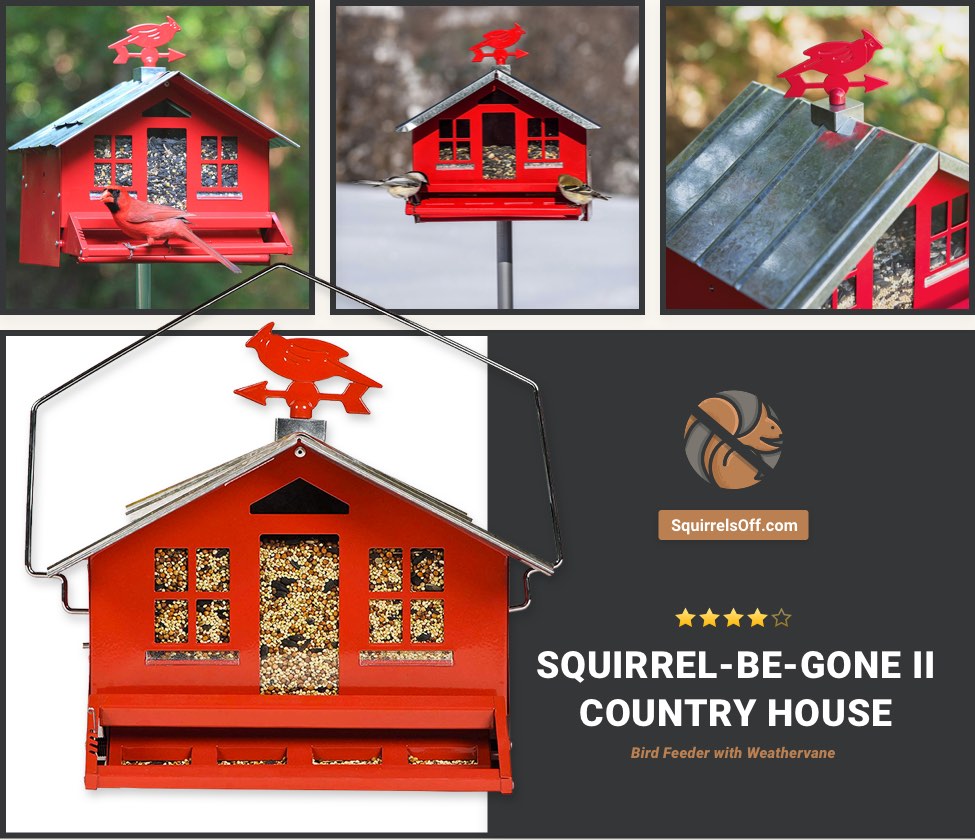 While it doesn't keep squirrels away when hung, this does work well as a squirrel stopper pole feeder. My favorite aspect of this feeder is the single-sided seed port. I enjoy facing the feeder toward my home, to be able to watch the birds feeding without the obstruction of view – they have no choice but to feed on the front side.
Conclusion: This feeder is only squirrel-proof when mounted, not when hung, but the design offers to use either way.
Yankee Flipper Bird Feeder
Best Spinning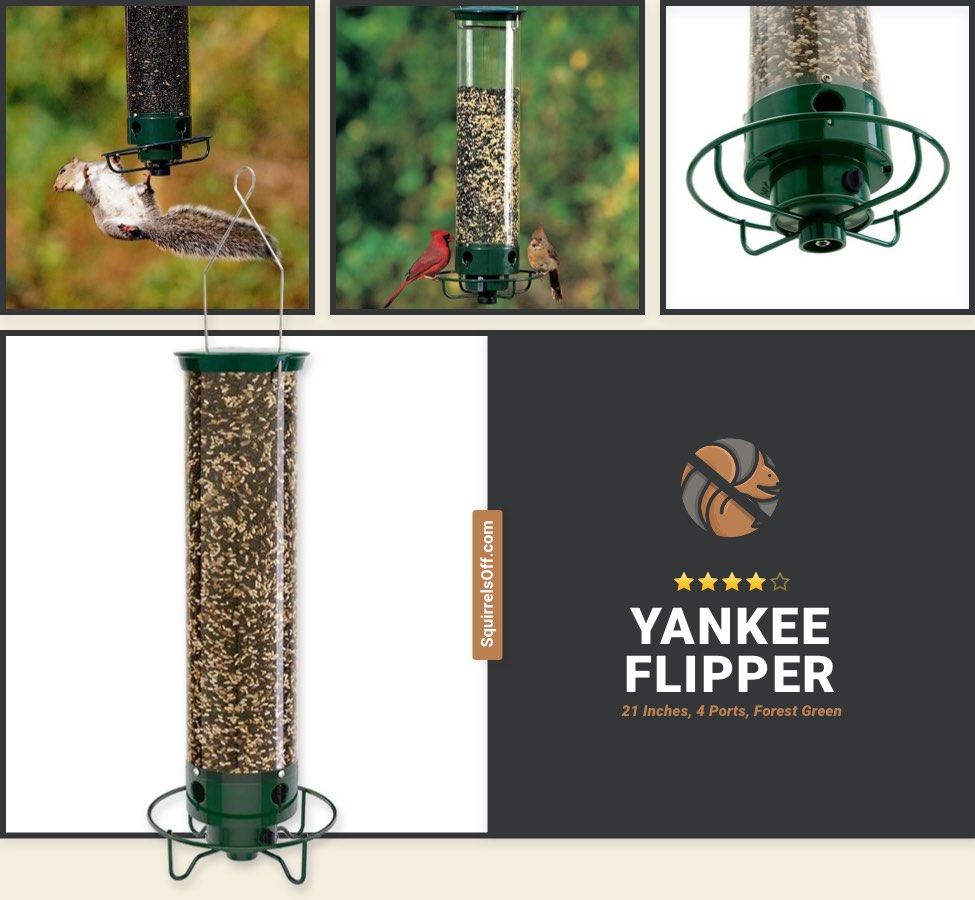 In my personal opinion, nothing compares to this feeder in terms of performance. Squirrels run away from the motorized rotating perch, once they've experienced its spin.
You might also have a bit of fun watching squirrels failed attempts at getting to your birdseed.
Conclusion: Overall the bird feeder as a whole is lightweight and durable. The spinning perch will toss squirrels to the ground and save the seed for the birds.
Squirrel Buster Plus
Best Durable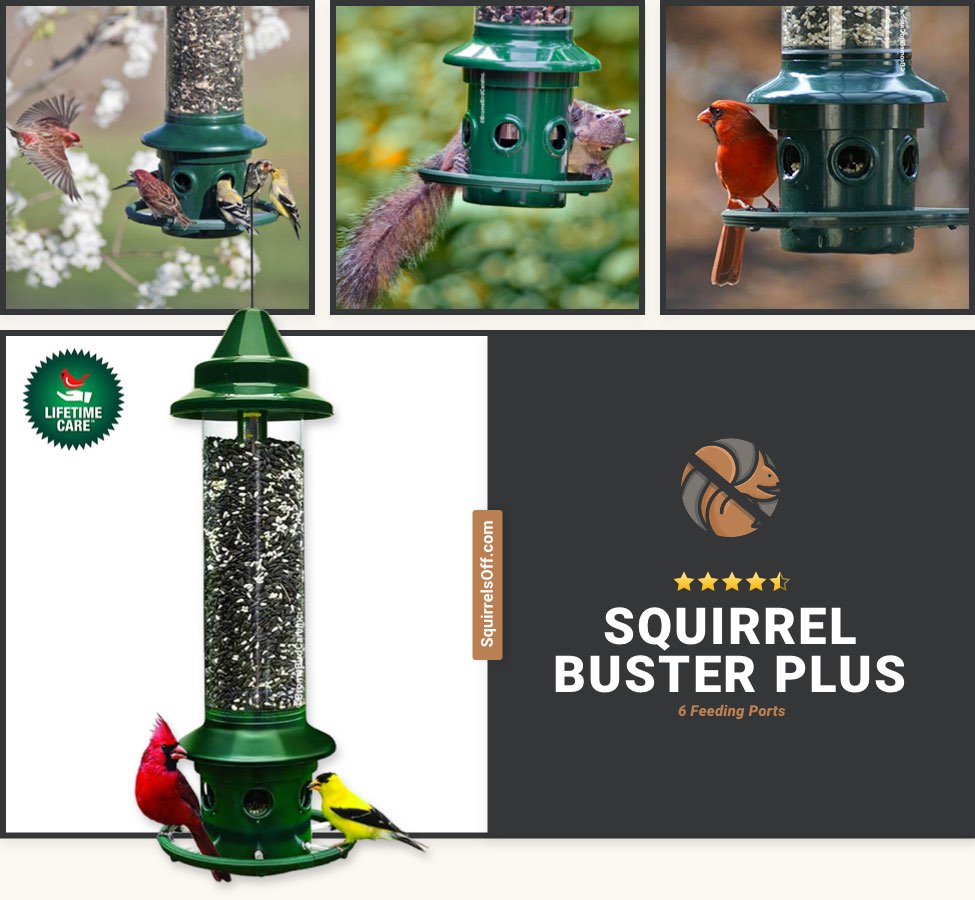 Because it is important to keep seeds fresh, you'll appreciate the excellent ventilation system which allows air to flow in and out of the seed chamber. And, although they can detect the presence of food, squirrels quickly learn they cannot easily get to the seed they want with this feeder.
Conclusion: This reliable bird feeder is effective at keeping the squirrels at bay while offering fresh seed to the local small birds
Squirrel Buster Suet
Best Cage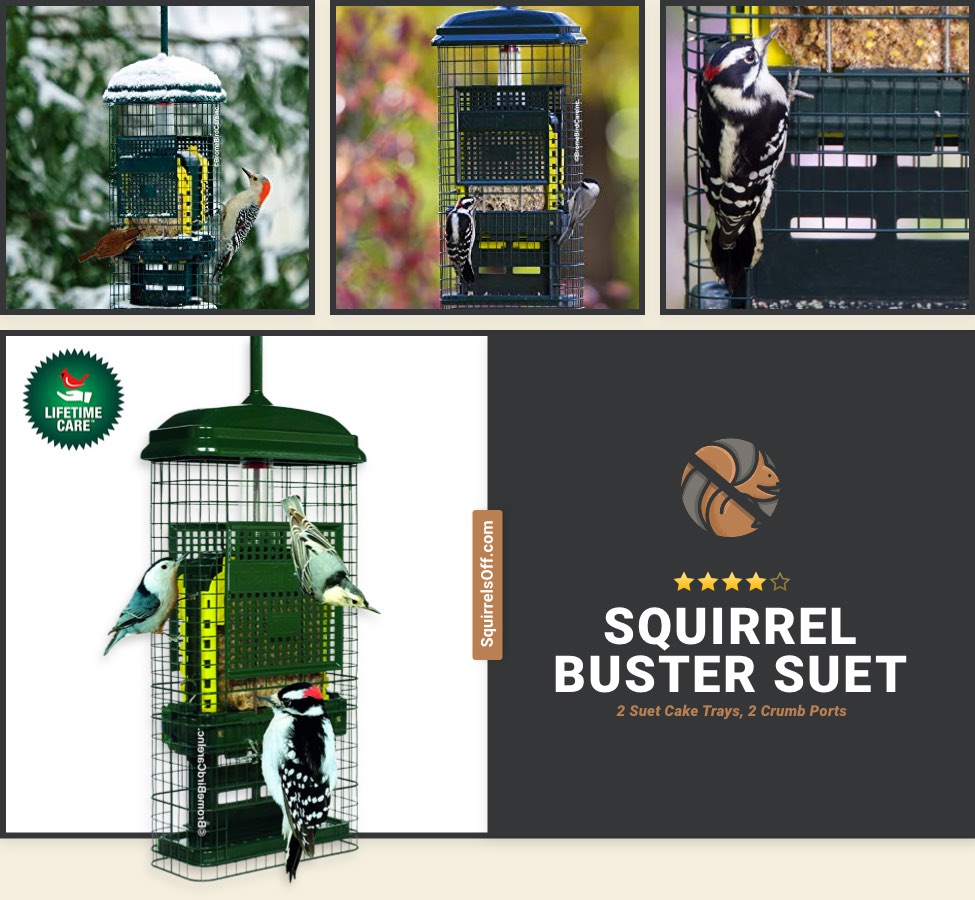 Featuring an ingenious design, the suet trays in this feeder work by sliding the down as the cakes are eaten. This not only serves as an indicator of the amount of suet left but also keeps it available to the birds. The day I put mine out, the squirrels took it for a test drive – the Squirrel Buster pulled through. The birds took to it immediately, while remaining impossible to squirrel break-ins.
✅ Weight-adjustable
✅ No suet is wasted
✅ Lifetime care
Buy on Amazon
Conclusion: This is a well-built product, much like the other Brome products I've owned.
Absolute II
Best Large
If you have grown tired of refilling your bird feeder every few days, it's time to consider getting a Woodlink squirrel-resistant bird feeder. Capable of storing a whopping 12 pounds of birdseed, this double-sided feeder attracts a wide variety of birds to your yard. It features a locking top, in addition to a metal spring-activated perch that work to deter squirrels and other small pests.
Conclusion: Because there is a smaller amount of waste with this feeder, it's a much-added bonus considering I spent $150 a month on food, previously.
PestOff
Best For Cardinals
Featuring a transparent tube, for easy refill assessments, this tube feeder is capable of holding up to three pounds of seed. This generally lasts anywhere from half a day to several days, depending on your bird population. I have personally owned and used this feeder for the last two weeks, and it works well.
✅ 3 pounds of seed
✅ Lifetime care
✅ Weather and waterproof
Buy on Amazon
Conclusion: I haven't witnessed any squirrels succeeding in stealing the bird food.
Squirrel-Be-Gone
Best Budget
This feeder offers multiple features in order to combat squirrels, with a leaf design that easily blends into a natural environment. The feeder is calibrated to support the weight of birds, but the weight-activated system reacts to squirrels. Whenever these rodents attempt to access the perches, a cage is pulled down and causes the decorative leaves to safely block the ports. Additionally, the cage prevents the squirrels from causing damage by chewing.
Conclusion: Multiple squirrels may cause mechanisms to be less effective when they team up for food. Ensure you provide enough clearance in order to prevent squirrels from ganging up.
Squirrel Solution200
Best Seed Funnel
This feeder accommodates more birds than other feeders, and sports six ports for birds to feed from. And, the best part, all exposed parts are made of metal! Critters will become quickly frustrated, and leave of their own accord.
✅ 3.4-pounds seed sapacity
✅ Lifetime care
✅ Most birds
Buy on Amazon
Conclusion: This feeder is very effective, and offers excellent quality for your fight against pests
Squirrel-X
Best Cage Suet
Some bird feeders are compact, and most are not required to be grandstanding. Perhaps you would like a feeder that provides suet cakes in addition to birdseed, in a compact package, this may be a product you'd appreciate. However, my personal experiences with this feeder have not all been positive. It features a metallic cage in order to prevent squirrels from entering the feeder, but it must be placed where rodents cannot jump in, for it to work effectively. Squirrels are also, unfortunately, able to reach through to grab pieces of suet cakes.
Conclusion: A variety of birds, sizing from small to medium, are free to come and feed.
How to Keep Squirrels Out Of Bird Feeder
Utilize mounted squirrel baffles on bird feeders
Location: Considering squirrels are capable of jumping distances of 10 feet or more
Place bird feeders away from trees
Fill feeders with food squirrels avoid
Use squirrel-proof feeder poles
Consider giving the squirrels their own feeder location

Types of Squirrel Proof Bird Feeders
I have put together a list of all types of squirrel proof bird feeders. There are a multitude of styles and designs available, offering simple and easy ways to prevent these critters from having their way with your birdseed.
The Importance of Maintaining Sanitary Feeders
While it may be a given that squirrels carry potential diseases, it is also a concern with sanitary conditions at bird feeders. Types of birds that don't often interact with each other, typically come into contact while enjoying birdseed from feeders. According to experts, you must take precautions in maintaining clean feeders regularly, in order to prevent the spread of illnesses across various species of birds.
Final Thoughts
Finding and purchasing the right squirrel-proof bird feeder can make a world of difference. With a bit of maintenance, the correct assortment of seeds and proper location for a hanging feeder, you'll notice a world of difference. Rather than quickly feeling defeated at the sight of squirrels stealing your birdseed, whenever you look out your window, you will soon be enjoying the sight of birds eating at freshly replenished feeders. With a bit of research, the right equipment, thoughtful placement, after the removal of any squirrels, you will notice the calming view of lovely birds in your garden, once again.
Latest posts by James T. Hume
(see all)