While hanging bird feeders are rather popular, using a bird feeder pole may prevent a lot of unwanted stress. If bird watching is something you enjoy, you probably know by now that utilizing tree branches isn't always a realistic option for your feeder. Squirrels are capable of climbing from branches to feeders, whether it's by sliding or jumping. If you aren't using additional protection against pests such as squirrels, your bird feeder and seed alike, are bound to be ravaged by these critters. This is where bird feeder poles are extremely useful, and often serve a dual purpose.
While there are a wide variety of types of poles available, some require simple ground insertion, and others require a more complicated assembly. Because it is your first defense in the fight against squirrels it's important, if you're thinking of buying one, to purchase the best bird feeder pole available. Ideally, you want to find a pole made of solid steel, and this is where I can be of help. I have put together a collection of own personal reviews of my favorite bird feeder poles, which are in the market today.
Reviews of the Top 5 Best Bird Feeder Poles
Kettle Moraine Squirrel Proof 2 Arm Bird Feeder
Premium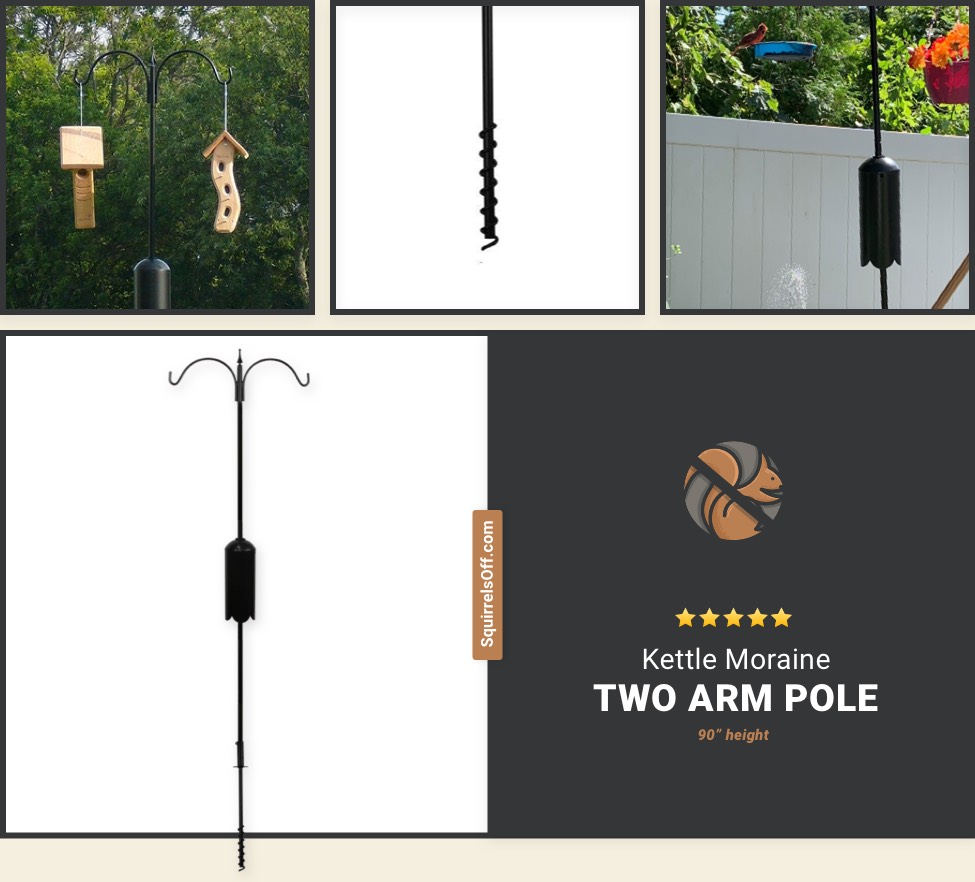 Includes Squirrel Baffle. Do you find yourself constantly at war with squirrels? Perhaps it's a time to change your approach, by considering a more practical choice of bird feeder pole. Made with heavy-duty steel, this pole ensures squirrels remain out of the picture, incapable of feeding off your birdseed.
Conclusion: Made of high-quality steel, this pole is equipped with an effective baffle – a rare find. I'm convinced that it is one of the best squirrel-proof bird feeder poles available.
---
Ashman Deluxe Bird Feeding Station
Best Overall
This pole is literally an all-in-one feeder or feeder pole station. I love that the hooks, in particular, are great for hopper and tube feeders, among others, which are attractive to birds such as finches, or juncos. In addition to additional hooks for extra accessories, this station also features a tray specifically for mealworms.
Conclusion: Because it holds everything you need to attract a variety of birds, by use of a single-pole, it is great for bird watching.
---
Gray Bunny Shepherd Hook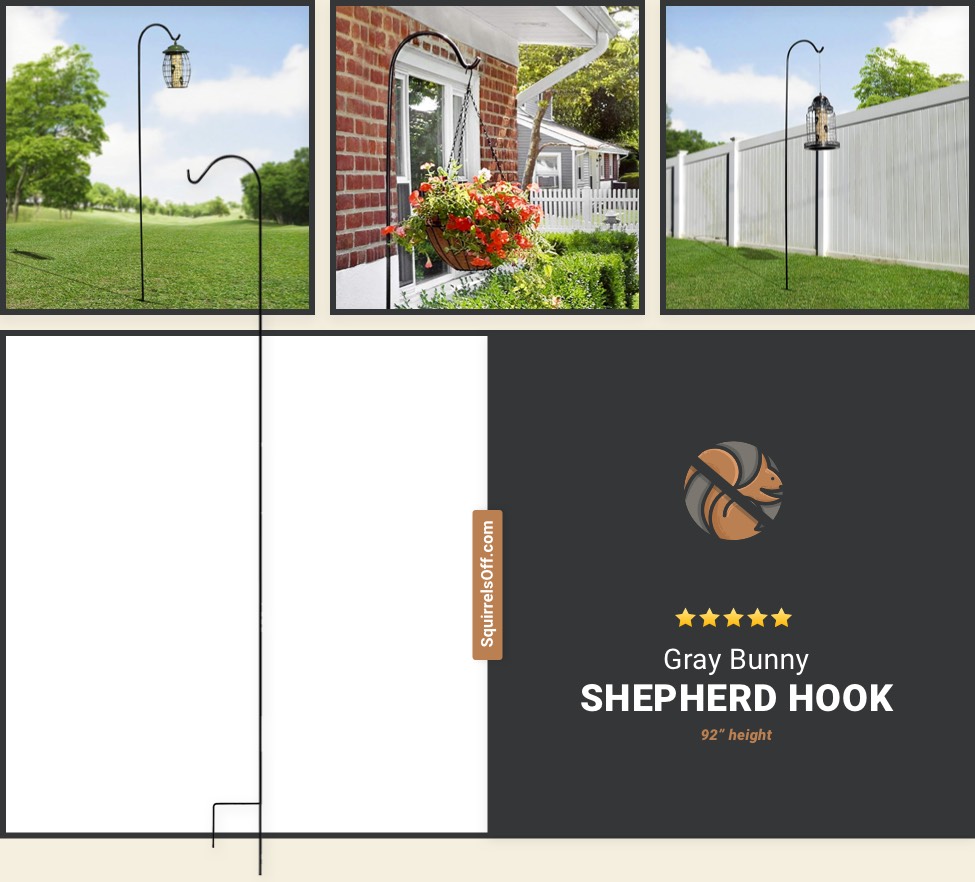 If you are looking for something simple, that also blends well into any landscape, you ought to consider a shepherd hook. These poles are thin and tall, with a curved hook at the top to hang lanterns, planters and, yes, even bird feeders. Shepherd hooks can usually carry a heavy load, considering they are made of solid metal, at 1/2 an inch in diameter.
Conclusion: Hooks from other brands are less than 3/5 inch in diameter.
---
Erva 5 Piece Feeder Pole Set
Twist-in Ground Socket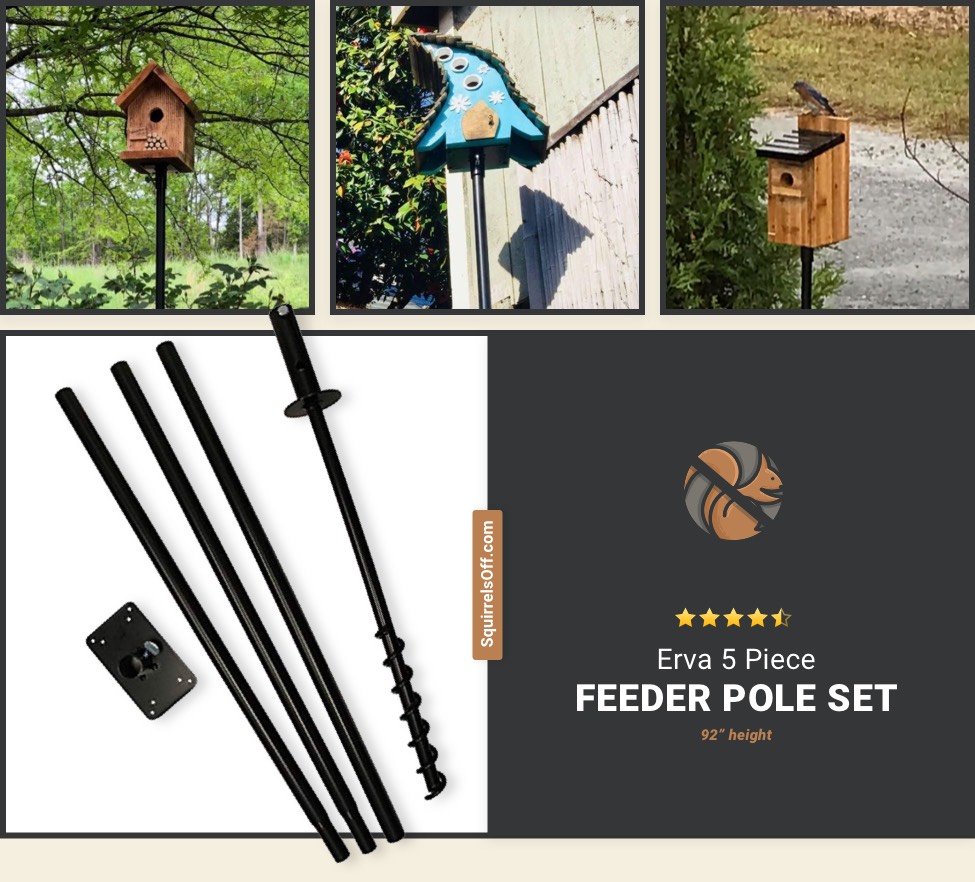 Made in the USA, Erva's 5-Piece Feeder Pole Set is great for heavy houses and feeders, alike. They are crafted from steel and capable of withstanding multiple seasons of use. The black finish, with its powder coating, adds a classic look to compliment your feeder and garden.
Conclusion: This pole set is constructed of durable heavy-duty, powder-coated steel, and provides an excellent anchor system.
---
Shepherd Hook 65in Tall 1/2in Thick
These heavy-duty shepherds hooks stand at 65 inches tall, and 1/2 inch in diameter. Made out of wrought iron, this product is made from one continuous piece of metal, featuring hanging hooks. Shepherd hooks are black in color and finished with glossy paint for a rust-free appearance that will remain to look lovely over time. This product is well-constructed and has a strong ground piece.
Conclusion: Installation is easy enough, and there are no issues during storms such as feeders falling off, etc.
---
Where Should I Setup a Pole?
Setting up your pole is a lot like finding the best location for your bird feeders. You should seek out someplace quiet, away from predators as well as pollution. You want to avoid places near shrubs, trees and home extensions like spouts, roofs, and drains, in order to prevent squirrels from stealing food by jumping over to feeders.
How Can I Stop Squirrels from Climbing Poles?
Buy and install feeder poles, with a baffle set.
Coat your poles in oil to create a slippery surface.
Take care in the location of your pole, away from platforms.
Do I need a Squirrel Baffle?
Yes! If you hope to enjoy worry-free bird feeding and watching, buy a bird feeder pole that has a baffle. If you already own a pole, you can purchase a separate baffle set and attach it with ease.
Pole Height
Consider your landscaping before picking a pole height that keeps birds far off of the ground, in order to make them feel safer. While some birds have no preference, many prefer to feed higher off the ground. A suitable height for a pole is around 6 to 8 feet, which is suitable for hanging bird feeders. This lends a hand at preventing squirrels from reaching your feeders, along with some other pests.
How Can I Keep My Bird Feeder Pole Straight?
When you're not careful to choose a relatively flat location, along with hard ground, it may be difficult to keep your bird feeder straight. Ground that's too soft will not be able to provide feeder poles with a good foundation or supporting base. It's also important to note, poles of longer height require more support and firmness from the ground. To maintain a straight feeder pole, dig a hole at least 3 feet deep if your pole is 8 feet tall. Posts below 6 feet only require a 2.5-foot deep hole.
Latest posts by James T. Hume
(see all)